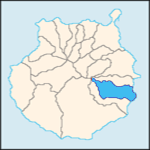 AGÜIMES is a town in the southeastern part of the island of Gran Canaria, about 270 m above sea level and offers hotels and accommodation for rural tourism and also several nature reserves. In Agüimes is the historic center with the church San Sebastián. This church looks like a cathedral and has one of the most beautiful facades in canarian neoclassical style. This church was declared an art historical monument in 1981. In the center of the marketplace is also the Hotel Casa de Los Camellos, which is over 300 years old and privately owned.
For four centuries, the community of Agüimes was episcopal seat. In the building there is now the Museo de Historia (History Museum) of Agüimes with 8 exhibition halls, next to it is the Parque de Los Moros.
If you want to explore the underwater world of Gran Canaria, you will find a beach on the coast of Agüimes with particularly spectacular diving grounds: Playa El Cabrón is one of the most species-rich underwater areas in the Canary archipelago.
The municipality also includes the Polígono de Arinaga, Montaña los Veléz, Las Rosas, La Banda, y Tamisas.
The municipality also includes the Arinaga Industrial Estate, Montaña los Veléz, Las Rosas, La Banda and Tamisas.
Many apartments, houses and plots are for sale or rent.
Near beaches: Arinaga 8 km, Balos 9 km, El Cabrón 10 km, Vargas 10 km
Airport: 11 km
Maspalomas: 30 km
Las Palmas de Gran Canaria: 34 km
Good infrastructure little tourism.